If you're unfamiliar with Google My Business (GMB), allow me to get you up to speed. You've probably seen or used a business's GMB in the past but didn't know that's what it is referred to. GMB profiles are the business profiles that pop up on the right-hand side of Google search results. Here is an example of mine.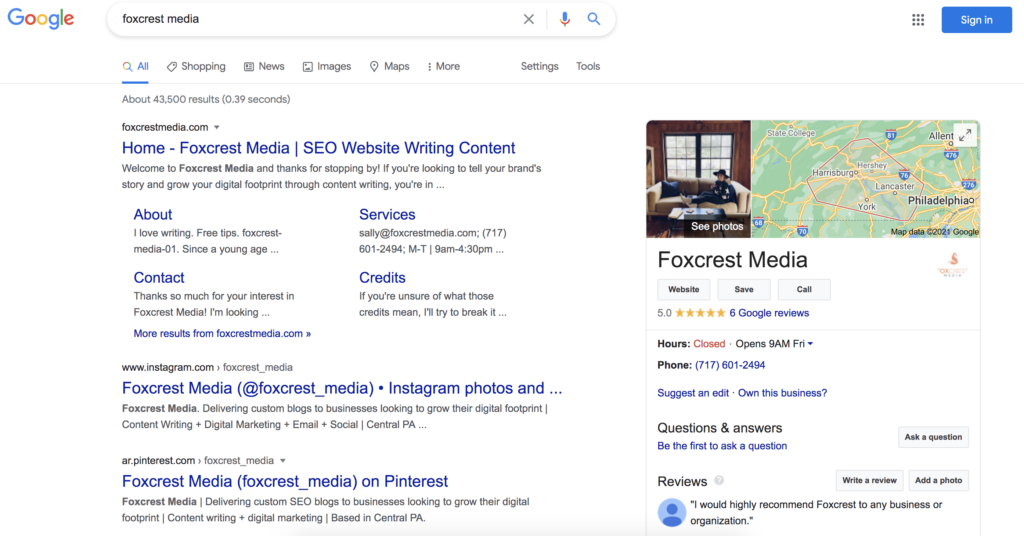 While GMB profiles aren't a given and need to be set up by a business owner, they are free and extremely beneficial. If you don't already have a GMB profile, add setting one up to your to-do list for this week!
Set Up and Verification
Setting up a GMB profile isn't hard, but it does require a few steps. If you have a Gmail email account, you'll want to follow these steps while logged into your account.
Log into Gmail or create a Gsuite login.
Once logged in, visit www.business.google.com.
From there, follow the prompts on the following pages. Begin by entering your business name. If an old GMB profile exists or needs to be claimed, it will pop up for you to select. And if you've never created a GMB for your business address, enter your business name and select Add your business to Google.
Complete the following pages to the best of your ability. The more accurate information you add to your profile, the better your business will connect with Google search results.
At the end of the setup process, you will need to verify the profile. Google will ask you to enter your address. A postcard will be sent in the mail with a verification code the following days. Once you receive it, head back to business.google.com to verify your account.
After your account has been verified, your profile should begin showing on Google within 72 hours.
Be as descriptive as possible with your business categories, products, services, and service area. The more information you add to your profile, the better you can connect with quality, qualified leads through Google.
Why Bother With a GMB?
GMB profiles have many advantages, and because they're free to create, I encourage every business I work with to set theirs up. If you're not convinced, here are some of the benefits of creating your GMB.
Show up in Google Map searches – meaning users searching for businesses in your geographic regions will gain more exposure to your company.
Collect client reviews – by directing your customers to leave you reviews on Google. Reviews play a factor in how your business ranks on Google and also builds trust with potential clients who want to learn more about what it is like working with you. Pro Tip: Google trusts what users say about your business more than you do (aka the self proclaimed worlds best pizza shop)
Share quick information with customers and leads – like your website, phone number, and products or services.
Track analytics and data – including website visits, phone calls, and requests for directions to your business.
Need assistance setting up your profile? Let me know!